Oil pan fabrication begins
Wed, Feb 13th, 2013
Started today by measuring twice maybe even 10 times then cutting the oil pan lower to fit in my s14 chassis. I had the help of my good friend Rusty Tracey and couldn't imagine doing this alone. We used the nice Metal table at Portland Speed Industries. Here is some pictures and If your looking to find some more detailed information on my build for this season here is the link to my build thread on northwestnissans.com
http://www.northwestnissans.com/board/threads/138061-1995-Nissan-240sx-S14-peepz240sx-Peter-Taylor-Racing-2013-VK-build?highlight=
and here are the pictures
"A Sport For Kids of All Ages….."
Sun, Jan 20th, 2013
I found this article on y good friend Jared of Hybrid Industries Facebook page and had to share. A great story about go karting and how it changed a life of a father and a son. I myself learned a great deal from karting out at my local track sykart, located in Tigard, Oregon.
Here it is
"A Sport For Kids of All Ages….."
By Jim Dickey
There is no doubt that sports can greatly enhance a kids development. They can teach teamwork, discipline, the value of hard work, and a sense of fair play. Sports like football, baseball, soccer, and hockey have been a major component in the shaping of American's self identity for more than a century. They are each wonderful in their own right, but they don't serve everyone equally and in many cases serve to alienate kids who weren't blessed with the gifts of size, strength, speed, or agility. As a guy who weighed 64 pounds in the 9th grade, I was constantly reminded that I was just short of worthless when participating in team sports. I endured all the jokes about being a horse jockey, a convenient armrest for taller players, and was even the "tossed object" in a couple of impromptu midget tossing contests. Suffice to say that I never found great joy in athletics.
Not having excelled in team sports as a kid left me ill prepared for the critical role of helping my son Austin to develop athletically. While other fathers were outside tossing the football or playing catch with their sons, I was inside playing with Austin and his toy truck collection. By the time he was in grade school, many of his peers had already started playing different sports and before I knew it, I had put Austin at a competitive disadvantage with his peers. He was nearly 8 years old when I realized that I had not fulfilled a big part of my job as a parent. Thats when I made the greatest discovery of his lifetime - Go Karting.
In go karting, I have found a sport that has allowed my son to gain all the benefits of a competitive activity without paying the price imposed on him by his less than perfect birthright. Karting is a fast paced, action packed sport that has taught Austin the value of competition, fair play, teamwork, and dedication to constant incremental improvement. It has given him an incredible sense of confidence, self worth, and focus. It has helped him to grow into a fine young man who can assert himself when it is needed, and exercise patience strategically when it is beneficial. It has taught him many valuable lessons about success and failure. He has learned that even when you do everything correctly bad things can happen, but through persistence and focus you can achieve things you only once dreamed of. He has learned that second place in a hard fought competition can be more rewarding than an unchallenged victory and has found far more pleasure in making bad equipment look good than winning in the fastest kart. He has learned that adaptability and hard work are more valuable than pure talent and consequently you should never stop learning. Beyond the things it has taught him, racing has provided him motivation to work hard in all the other aspects of his life (school, chores, etc.) and thus is a pillar in the foundation upon which he is developing his character. As a bonus, taking Austin go-kart racing has made me unofficially the coolest dad on the block.
Austin competes at Summit Point Kart in Summit Point, WV throughout the spring, summer, and fall. Summit Point provides karts and safety equipment in an "arrive and drive" arrangement which makes it surprisingly affordable and headache free to compete in their racing leagues. "Arrive and Drive" is just what it sounds like - Summit Point Kart provides all the equipment (karts, racing suits, helmets, etc.) and you simply arrive and drive. There are karts and a special track for kids as young as 5 years old, and faster more sophisticated Karts for teenagers and adults. The adult karts run on a larger circuit than the junior karts and some of them can reach speeds up to 85 mph. Let me say that 85mph is mind-blowing when you are 2 inches off the ground. Summit Point offers classes to teach the young ones how to drive and compete safely. Upon graduation, kids are eligible to compete in weekly racing events in a league format. There are also Adult, and Junior racing leagues available. The leagues are run by Jens Scott who owns the facility. Jens is the son of two time world champion Formula V driver Bill Scott and has been around racing since he was a baby. Jens' approach is that of a latter day aescetic or zen master, teaching a purist racing philosophy to his followers who make a weekly pilgrimage to his retreat in the mountains of West Virginia. Before each racing league, Jens reviews the rules, emphasizing that success in racing is a matter of mastering the art of clean passes and using your mind to outsmart your competitors, not in dive bombing people in the corners or bumping people out of the way to get past them. The emphasis is on safety and fairness and Jens and his staff really deliver a great time to all their guests. I can't think of any place where I see a greater concentration of happy, enthusiastic, and energized people. I often tell Jens he should take a page from Disneyworld's playbook and put a sign of the entrance to Summit Point Kart that says "The Happiest Place On Earth".
What makes karting so different from other sports is that a well run program like the one at Summit Point strives to create as egalitarian an environment as possible so that the competition is won by the driver who has the most developed skill. The kart is the great equalizer - neither favoring the biggest and strongest, nor penalizing the smallest and weakest. In karting, it is persistence, mental focus, adaptability, and endurance that trump size and strength. I have seen kids in leg braces beat athletes across the finish line, younger sisters beating their older brothers, and with great regularity, sons passing their fathers. For many, it is truly a family sport that bridges generations and gender by allowing everyone to compete with one another regardless of their age or sex.
This is not to say that karting is not a physically demanding sport - it is grueling. Driving a kart is like grabbing the collar of a steel beast that wants to go as fast as it can in a straight line, and bending its will to yours using all your mental and physical strength- lap after lap after lap. Most people are wiped out - both mentally and physically after only 10 minutes behind the wheel. Reaching speeds up to 85 miles per hour, braking efficiently, and snaking your way through turns as fast as you can takes a tremendous toll on the body. The lateral G-forces whipsaw you back and forth as you fight to keep the kart on the racing line. Core body strength and the ability to endure are all important but the mental toughness required for racing is unlike any other sport I can think of. There are no timeouts, or huddles, or line changes to give you a chance to relax and recouperate. When behind the wheel, the margins of error are so slim and the stakes so high that you simply can not let your concentration wane. If you do, someone will take your position, and if you are any good, there are 10-20 people behind you ready to do just that on any given lap.
Karting is also great for teaching emotional control. When watching a football game, I often marvel at the hyper-aggressive chest pounding, the boastful gloating, and the glaze of testosterone that covers the eyes of the competitors. That type of aggressive posturing is useful on the football field but is counterproductive in almost every other aspect of life. By contrast, successful racers develop an almost preternatural ability to remain calm in the midst of extreme chaos, and at the peak of competition. Why? You simply can not be angry behind the wheel of a kart and remain competitive. Consider this...the blink of an eye takes about 3/100ths of a second. In kart racing that is an eternity. It is not uncommon for the top 5 or 6 fastest lap times in a qualifying session to be within 3/100ths of a second - and that is over the course of a 60 second lap. There can be less than a 1% difference between 1st and 5th place. Drivers who lose control of their emotions on the track make minor changes to the way they drive (braking a fraction of a second later, turning in to a corner 5 feet sooner) and those changes make small but extremely significant changes in their results. The difference between winning and losing often comes down to emotional control and if you don't have it, the kart and the clock and will let you know right away.
Karting at Summit Point Kart has benefitted my son and I in so many that it is difficult to keep from rambling on. I could not put a price on the positive change it has made in my son's outlook and self perception, and the joy it has given me is beyond words. If you are looking for a great activity for your child, check out Summit Point Kart, you won't be sorry. — with Jim Dickey.
PARC open drift! Nov. 10th
Tue, Oct 30th, 2012
Probably the last PARC event of the year. I hope to see everyone out there. I am going to tear up some tires with the KA for one last time
P.A.R,C. this sunday! the 1st
Thu, Jun 28th, 2012
Lets kick off July with a big bang! hope to see you all at track this weekend. =)
PARC is coming soon for PTR!
Sun, Jun 24th, 2012
Hey everyone! PARC open drift is coming up sooon! just a short 7 days. join me and friends at pats acres racing complex in canby, OR for some ride alongs and a great show. See you track side. July 1st! 11am or so till sunset.
PARC DRIFT 3-11-12 from Peter Taylor on Vimeo.
Thu, Jun 21st, 2012
Got up to Monroe, washington the night before and got a good rest for a nice day of competition at Evergreen Speedway. I started out the day struggling to hold the bank due too the amount of grip I had and my low amount of power. after my 3 practice runs and watching people wreck due to gripping up on the bank I decided to bump up tire pressures maxing them out. Went it to qualifying pretty confident and did alright qualifying 13th. Then went against a great driver in the top 32 which put down some great runs and knocked me out of the competition early.
Overall had a fun and exciting weekend with the best friends and crew, Adam and Beth. I couldn't do it without him. See you all at Evergreen Drift grassroots round 4 august 27th
Picture take by Always Reckless (http://www.facebook.com/pages/Always-Reckless/254683091224087)
Thu, May 24th, 2012
Round 2 didn't go as well as round 1 for me but the weather made it tough to be consistent. I was having problems even after all 4 practice runs. I would spin coming off the bank. Once the pressure was on to qualify I did better and ended up qualifying 2nd place which landed me 7 points towards the championship. Then after doing great in qualifying I tried to go to hard and spun both my runs in the top 32 battle against Anthony Naasz in his s13. Lucky enough though I was able to hold my position and am still in 7th place in the overall series.
painted interior for round 2
Fri, May 18th, 2012
Thanks to the help of amazing friends like Sarah Hall, Adam Wright, Rusty Tracey and Evan Talentino, I was able to finish the interior and get the car all put together. I am all ready to rock it at Round 2 grassroots at Evergreen Speedway. See you all at the track.
Here are some pictures of the cage. but please picture is a picture come to Evergreen Speedway and see it in person and support Evergreen Drift!
Mon, May 14th, 2012
Got started spray painting the roll cage today getting the primer on and the first coat of primer.
Tue, Apr 24th, 2012
Entered the first competition up at evergreen with a full crew of friends and came prepared to win. Which paid off. I ended up scoring a 94 on my 2nd qualifying run of the day, that gave me the number 1 qualifying spot. Moved on up to the top 16 and was knocked out by a great driver in a 2jz powered s13. Ran into some tire problems but other then that was a great and awesome first event. Going to be at round 2 more prepared and ready to rock all day long.
Great photo taken by gene of GC Media
Wed, Apr 4th, 2012
Just rolled into Long Beach, CA for the first round of Formula Drift. Only if I could be driving. Can't wait to see all the new cars and set ups for the 2012 season. Also can't wait for my friend Andrew Coomes place high in his rookie year.
Mon, Apr 2nd, 2012
Drove up to Evergreen Speedway for the northwest nissans event "Nissan Fest" with Beth and Adam. We saw so many awesome cars, lots of nissans and others as well and that was just the parking lot. Enjoyed the car show and enjoyed the drifting even more. Once I got there I new instantly I should have brought my own S14 up there. Most of my time there was spending time with Andrew Coomes and thinking about how and what we should do to make his car more reliable for Long Beach the first round of Formula Drift.
Made this video of our time there.
Mon, Mar 12th, 2012
Yesterday was a lot of fun racing out at Pat's Acres Racing Complex with lokimotorsports. Got to do some tandem runs with Jared Cooper From Hybrid at designbyhybrid.com and also just had a blast. Rained for a good half of the day which made the track very unpredeictable ended up skidding off track once. Lots of people showed up and I gave lots a people ride alongs. Just a great day in the PARC.
Here is a video I pieced together of my day at pats acres. Shot with a GoPro.
Fri, Mar 2nd, 2012
Today Andrew Coomes and I went to pick up our pallet of NOS energy drinks. Can't wait to hand them all out at the events. Come get your NOS check out the calender here on my website for events. If you have any question just go to my contact page and send me a message. See you at the track.
New look to the 2012 videos
Mon, Feb 20th, 2012
Wed, Feb 15th, 2012
on the February 11th I car pooled up with the Coomes family and my brother Juan up to the Evergreen Drift Banquet for the 2012 season. It was really great to see all the help and support we as drivers are getting this season from the track. It was good to hear from all the people that make our competitions happen. Glad to hear that is moving forward and going to help us market and improve as not only drivers but marketers.
Here is a video from the day I threw together.
Tue, Jan 31st, 2012
The cage is all done now. Looks amazing. In pictures you can even really see the cage in there its so tight. Next step is to get it painted and ready for competition. Thanks PSI and Kyle, you guys did great.
Fri, Jan 27th, 2012
Thanks to Kyle Pollard and PSI my cage got started tuesday and is pretty much almost done. Expected it to take much longer to build and fabricate the cage. Here are two pictures from Friday.
So Tight against the roof of my car. It will be nice having the extra room from removing the sun roof.
Fri, Jan 20th, 2012
Last night I sprayed my seat brackets purple and white, but due to the cold weather they didn't dry in time to install them yesturday. So today after work I got around to heading to PSI - Portland Speed Industries to work on installing the brackets and the seats. Now that the seat is all installed we can start getting measurements for the cage and get rolling hopefully as soon as parts come in.
Also I got around to ordering a front bumper for the 240sx to clean things up.
Here is some pictures of the seat and brackets.
And here is the Front Bumper I ordered from ED (Extreme Dimensions) or
www.extremedimensions.com
a Type U Front Bumper made by Duraflex
Tue, Jan 17th, 2012
Got the Sparco evo in at the shop today and heading back tomorrow to mount it up. Got the cage material all ordered and on the way to the shop. should start tearing the car down this week.
Here are some pictures from today
I had a little fun trying out the seat today. maybe a little to much.
Rusty giving me a look =)
Mon, Jan 9th, 2012
Sat down with Jason Oefelein and planned out the full specs and details for the Formula D roll cage for my S14. We drew out a plan and got everything all set to get going the beginning of next week. Big thanks to Jason and everyone at PSI. Also met with JJ and went from ordering the Sparco Spring 5 to getting the Sparco Evo.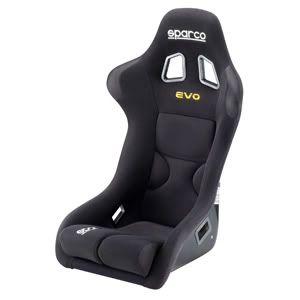 Parc video - Loren Haleston
Tue, Jan 3rd, 2012
12-10-12
Up above is Loren Haleston's video. shot at Pat's acres racing complex. race was held by loki motorsports
I had an awesome day hanging out with all my friends and competitors. The car ran great and just burned through my tires. I brought an extra pair of tires just in case, and I ended up going through all my sets. I was supprised to see all the tire smoke I did from my 1995 Nissan 240sx. Can't wait for season to start. That being said this will probally be last even till the season begins again due to upgrades for next season.
Thu, Jan 5th, 2012
Just dropped off the car at Portland Speed Industries. Could not be happier. Also just ordered my new Sparco Sprint 5 seat.
Tue, Jan 10th, 2012
Car is currently at PSI in the hands of there great mechanics going to start building the cage this next Monday, Jan 17th 2012.
Here are some pictures of the current state of the drift machine.
Sun, Jan 1st, 2012
Happy new year everyone. Now that is officially my off season I'm cracking down and getting the car ready for next season. Got a lot of new and excited things coming up soon, so keep posted.
Sat, Sep 17th, 2011
Thanks to the support to all my friends and family, especially Juan, Rachelle, and Evan, I am all ready to drift at the Title Fight tomorrow at Evergreen Speedway. See you all out there. keep posted for post event pictures.
Evergreen Drift 4 Title fight
Wed, Sep 21st, 2011
What a way to end the season. I had an amazing time at the track with everyone and things could not have gone smoother. I entered the final round with a good mentality and it paid off. I also trailered the car up which made it easier for me to push the cars limits without fear. I ended up qualifying 18th and then moving on to the top 16 battles against Marc a great driver from Canada. Despite him having some car issues in his sr powered s14 he took the win with a better line around the course.
Here are a few pictures taken at the event make sure to check out there site as well
http://bigboymedia.net/
http://www.gwagdesigns.com/
Mon, Aug 29th, 2011
Yesterday was the 3 round of competition for me up at Evergreen Speedway,in Monroe Washington. I came to the event with a a new car set up and also a new mentality. I added to my set up a set of the new 2011 Powered by Max coilovers. I came into the event sitting in 13th place. In the morning I was having difficulties dialing in my new suspension set up. Then before I could figure it out went into qualifying. I ended up putting a decent run in and qualified 18th. I started are top 32 battles going against Nikki San Miguel in her pink s13 SR20DET. I ended up winning that round and moving on to the top 16 due to Nikki spinning. In the top 16 I lost to Joey in his s14 KA24DET. In the end I moved up 3 spots in the standings going back to 10th place.
Sun, Aug 21st, 2011
Went out and had a little fun for the last few hours of the Loki motorsports drift in the parc event. It was nice to see everyone there and get a feel for my new set up.